Dr. Vinod Vij - Best Plastic and Cosmetic Surgeon in Mumbai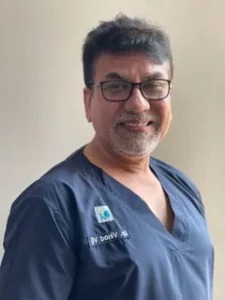 Dr Vinod Vij is an alumni of the prestigious King Edward Memorial Medical College , Mumbai. He's had the privilege to work under great plastic surgeons of India and abroad. Presently he's practicing in Navi Mumbai as a Plastic and Cosmetic Surgeon. He has a state-of-the-art Laser Clinic in Apollo Hospital | Fortis Hiranandani Hospital Navi Mumbai which is equipped with top-of-the-line Lasers. Many procedures like Laser Hair Removal, Tattoo Removal, Facial Rejuvenation, etc are done in the Laser Clinic with excellent results. Clients include men and women, both young and old. 
Much in demand these days is the Face-Lift, which Dr. Vij does both surgical as well, as non-surgical. The results with surgical are immediate whereas multiple sittings are needed with non-surgical technique. One arena where men clients dominate is Hair Transplant.
Dr. Vij does Follicular Unit Transplant with extremely good results. Here also sometimes multiple sittings may be required.He also does scarless and bloodless hair transplant which is known as FUE, Liposuction and Lipectomy, popularly known as Tummy Tuck, are also preformed very regularly .The results are mind blowing . 
Body Contouring is done after Obesity Surgery or excessive weight loss .He has all gadgets for liposuction one need for high definition like Vaser and microair power assited machine. With the ease of availability of different types of breast implants, this surgery is in great demand these days and Dr. Vij performs these surgeries regularly with excellent results. Breast reduction surgery is also much in demand these days especially in women post-lactation.
Another area where males enter is Male Breast Reduction surgery, which is performed through a key-hole incision. The results are extremely rewarding. Rhinoplasty or the Nose –job is very popular among all age groups and both sexes. Dr. Vij also prefers to use implants wherever indicated. Same is with Chin-implants and it gives very good results. Blepharoplasy, Cleft-lip and Palate and other Cranio-facial surgeries are some of the other varieties of surgeries performed by Dr. Vij with equal ease and comparable results.
Dr. Vij is credited with the establishment of Deptt. of Plastic Surgery in MGM Hospital, Vashi , wochardt Hospital, Mulund now it is Fortis hospital and Fortis hiranandani hospital Vashi All the Cosmetic procedures as well as Conventional Plastic Surgery is preformed here with élan and grace. Dr. Vij treats fractures of maxilla and mandible with the technique of plating.
Though he performs conventional plastic surgery, his passion remains Microsurgery – Re-implantation of fingers and hand, and till date he has many successful cases to his credit.