Best Face Plastic Surgeon in Mumbai
Welcome to the exceptional world of face reshaping surgery, led by Dr. Vinod Vij, the best face plastic surgeon in Mumbai.
Experience transformative results and renewed confidence under the expert care of Dr. Vinod Vij, where your aesthetic dreams become a stunning reality.
Dr. Vinod Vij is a distinguished alumnus of Mumbai's esteemed King Edward Memorial Medical College. Having had the privilege to train under prominent plastic surgeons in India and abroad, he now practices as a skilled Plastic and Cosmetic Surgeon in Navi Mumbai. Dr. Vij's expertise is further showcased at his state-of-the-art Laser Clinic in Apollo Hospital | Fortis Hiranandani Hospital Navi Mumbai, equipped with top-of-the-line lasers. Catering to a diverse clientele, both young and old, he achieves excellent results in procedures like Laser Hair Removal, Tattoo Removal, and Facial Rejuvenation.
Dr. Vij offers surgical and non-surgical techniques as transformative solutions tailored to your need. His proficiency extends to Hair Transplants, performing Follicular Unit Transplants (FUT) and Follicular Unit Extraction (FUE) with exceptional outcomes. Body Contouring, Liposuction, and Lipectomy provide astonishing results after obesity surgery or significant weight loss, aided by cutting-edge technologies like Vaser and micro air power-assisted machines. Dr. Vij is renowned for his excellence in various surgeries, including Breast Augmentation and Reduction and Gynecomastia surgery (Male Breast Reduction). He exhibits equal ease and excellent results in highly sought-after procedures like Facial Contouring Surgery, among others.
As a credit to his expertise, Dr. Vij established the Department of Plastic Surgery in prominent hospitals, furthering his commitment to delivering exceptional care. His passion for Microsurgery, particularly Re-implantation of fingers and hands, has seen numerous successful cases, showcasing his dedication and proficiency in the field.
Transform Your Look with Expert Face Surgery!
Treatments offered by Dr. Vinod
With unparalleled expertise and artistry, Dr. Vij offers a comprehensive range of procedures in facial reconstruction surgery tailored to your unique beauty aspirations. These include:
A Lip Lift is a specialized facial procedure aimed at enhancing the appearance of the lips and achieving a more youthful, balanced look. Dr. Vinod Vij, a renowned face plastic surgeon in Mumbai, skillfully performs this procedure to create natural, beautiful results. By carefully adjusting the position of the upper lip and reducing excess skin, he accentuates the lip's contour and improves overall facial harmony. With precise attention to detail, Dr. Vij ensures that the lip lift complements each patient's unique features, resulting in a confident and rejuvenated appearance.
Known as the best face plastic surgeon in Mumbai, Dr. Vinod Vij is highly experienced in Chin Reshaping, or genioplasty, a transformative procedure aiming to achieve facial balance and harmony. By skillfully adjusting the chin's size, shape, or projection, he enhances the chin's appearance to complement the rest of the facial features. Whether augmenting a receding chin or reducing a prominent one, Dr. Vij's precision ensures the chin reshaping results in a well-proportioned and aesthetically pleasing facial profile.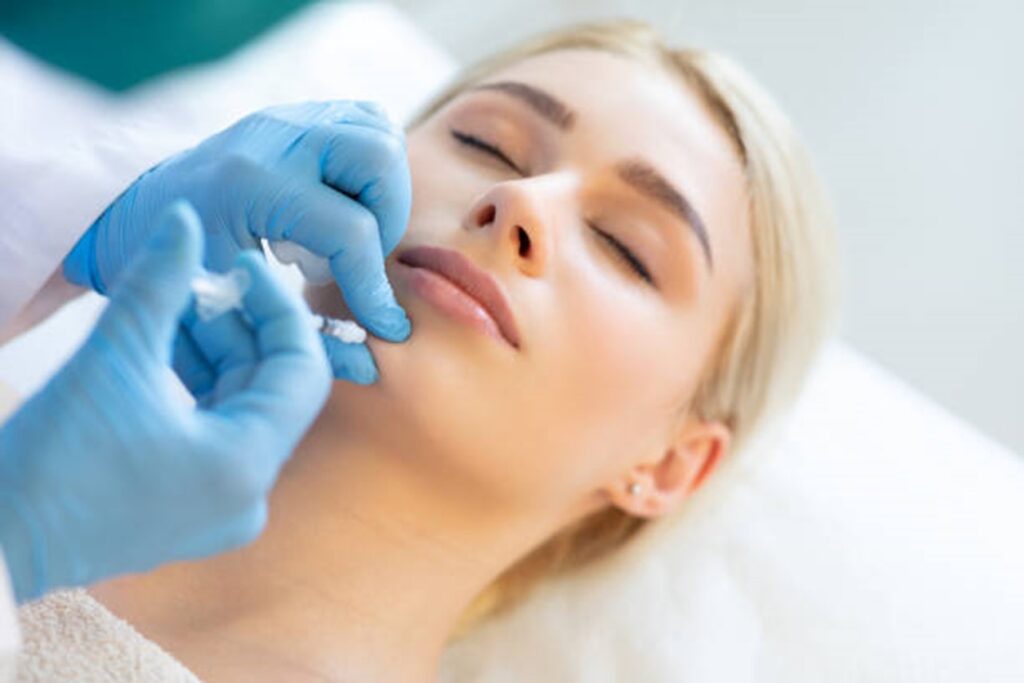 Nano Fat Grafting is an innovative face-shape surgery technique Dr. Vinod Vij, well-known cosmetic surgeon in Mumbai, offers. During this procedure, he harvests a small amount of the patient's fat from areas with excess fat and injects it into areas with volume loss, such as the face. The nano fat grafts have regenerative properties, improving skin texture and reducing fine lines. Dr. Vij's mastery of face fat removal surgery allows him to achieve subtle and natural-looking results, restoring youthful contours and revitalizing the face.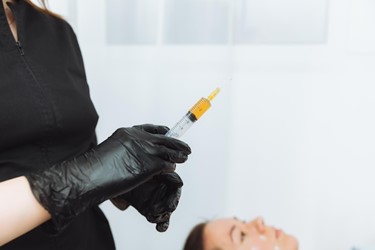 A Face-lift is a comprehensive facial rejuvenation procedure designed to address signs of aging in the mid-face, jowls, and neck. Often called the best face-lift surgeon in Mumbai, Dr. Vinod Vij performs this transformative procedure with precision and artistry. He effectively reduces sagging and wrinkles by tightening underlying facial tissues and removing excess skin, creating a more youthful and refreshed appearance. Dr. Vij's expertise ensures that the face-lift results in a natural and long-lasting rejuvenation, helping patients regain self-confidence.
Brow Lift (Forehead Lift):
The Brow Lift, also known as a Forehead Lift, is a procedure to reduce wrinkles and lift a drooping brow. Dr. Vinod Vij, the best face-lift surgeon in Mumbai, expertly elevates the brow's position to achieve a more alert and rejuvenated appearance. By smoothing forehead lines and addressing sagging, he provides subtle yet impactful changes that enhance the upper face's overall harmony. With Dr. Vij's skilful approach, patients experience a revitalized and refreshed look that complements their unique facial features.
Eyelid Lift (Blepharoplasty):
Blepharoplasty, commonly known as an Eyelid Lift, is a procedure that rejuvenates the appearance of the eyes. Dr. Vinod Vij, a renowned expert in face plastic surgery in Mumbai, skillfully performs this surgery to remove excess skin and fat from the upper and lower eyelids. Dr. Vij creates a more youthful and refreshed look by addressing droopy eyelids, puffiness, and under-eye bags, brightening the eyes, and giving a rejuvenated appearance. His meticulous technique makes patients achieve natural and long-lasting results, restoring a more vibrant and rested appearance.
Would you like to enhance your facial aesthetics to achieve a harmonious profile?
Come and rejuvenate your appearance with full-face plastic surgery performed by Dr. Vinod Vij, a leading face plastic surgeon in Mumbai.
Face plastic surgery cost in Mumbai
Face plastic surgery costs in Mumbai may vary based on various factors, including:
the surgeon's experience
the chosen facility
individual patient requirements
Let us look at the approximate face plastic surgery cost in Mumbai and the benefits of each procedure.
| | | |
| --- | --- | --- |
| Procedure | Approximate Cost in Mumbai | Benefits |
| Lip Lift | ₹75,000 – ₹1,00,000 | Enhanced lip contour and youthful, balanced appearance |
| Chin Reshaping | ₹1,20,000 – ₹2,00,000 | Improved facial balance and harmonious profile |
| Nano Fat Grafting | ₹80,000 – ₹1,20,000 | Facial rejuvenation, improved skin texture, and volume restoration |
| Face-lift | ₹2,50,000 – ₹4,50,000 | Comprehensive facial rejuvenation, reduced sagging, and youthful appearance |
| Brow Lift | ₹1,50,000 – ₹2,50,000 | Smoothed forehead lines, lifted brow, and refreshed upper face |
| Eyelid Lift (Blepharoplasty) | ₹80,000 – ₹1,50,000 | Rejuvenated eyes, reduced droopiness, and improved under-eye appearance |
If you are considering experiencing the transformative benefits of facial implant surgery in Mumbai, please consult with a qualified plastic surgeon like Dr. Vinod Vij.
Dr. Vij is a highly-skilled face plastic surgeon in Mumbai and will provide you with an accurate cost estimate. He will also discuss the specific benefits and considerations for each procedure that is suitable for you.
Your Dream Face is Just a Click Away – Book Free Consultation Now!
Ideal Candidate for Face plastic surgery
Dr. Vij may recommend face reshaping surgery for:
Individuals with visible signs of aging, such as sagging skin, wrinkles, and loss of facial volume
Those seeking to enhance specific facial features, like the lips, chin, or brow, for improved balance and aesthetics
Individuals with good overall health and realistic expectations about the outcomes of the procedure
Patients with stable mental and emotional health, as face plastic surgery, can impact self-esteem and body image
Non-smokers or individuals willing to quit smoking as it can affect healing and recovery after the surgery
Those who have no underlying medical conditions or factors that may increase the risks associated with surgery
Individuals are bothered by excess skin, fat, or muscle in the face and neck area, causing a tired or aged appearance
Patients who have experienced significant weight loss or facial volume loss and desire facial rejuvenation
Individuals looking to correct facial asymmetry or congenital deformities
Those who have researched and fully understand the specific procedures they are interested in and have had thorough consultations with a qualified and experienced plastic surge.
According to Dr. Vij – "The ideal candidate for face plastic surgery is someone looking to address signs of aging, improve facial balance, and enhance specific features while possessing good overall health and realistic expectations."
The success rate of face-lift surgery can vary based on individual factors such as the surgeon's skill and experience, the patient's health and age, and adherence to post-operative care instructions. On average, face-lift surgeries have a success rate ranging from 85% to 90%, with patients reporting improved facial appearance, reduced sagging, and a more youthful look.
Please consult Dr. Vinod Vij, a board-certified plastic surgeon, and discuss your specific goals and expectations before proceeding with the procedure.
Invest in Your Self-Confidence – Start Your Face Surgery Journey Here!
Post-operative Guidelines
It is essential that you follow the following guidelines to recover smoothly after your face-lift procedures:
Post-face-lift guidelines:
Rest and avoid strenuous activities.
Keep head elevated to reduce swelling.
Manage discomfort with prescribed medications.
Apply ice packs to reduce swelling and bruising.
Avoid sun exposure and use sunscreen.
No smoking or alcohol consumption.
Follow wound care instructions.
Limit facial expressions to minimize strain on incisions.
Stay hydrated and eat nutritious foods.
Attend follow-up appointments for monitoring and concerns.
Why choose Dr. Vinod Vij ?
Over 36 years of expertise
Distinguished alumnus of the prestigious King Edward Memorial Medical College in Mumbai
Established the Deptt. of Plastic Surgery in MGM Hospital, Vashi, and Fortis Hiranandani Hospital, Vashi
An elite member of:

American Society Of Plastic Surgeons
The International Society of Aesthetic Plastic Surgery (ISAPS)
Indian Society for Reconstructive Microsurgery
The Association of Plastic Surgeons of India (APSI)
World Society For Reconstructive Microsurgery (WSRM)
Indian Association of Aesthetic Plastic Surgeons (IAAPS)
Is plastic surgery suitable for the face?
Plastic surgery for the face can be beneficial for improving facial features, addressing signs of aging, and enhancing self-confidence. However, you should consider it carefully with realistic expectations.
Which age is best for face surgery?
The ideal age for face surgery varies based on individual needs. Generally, face surgeries like face-lifts are more common in individuals aged 40-60. However, suitability depends on one's unique aging process and specific concerns.
How long does face plastic surgery last?
The longevity of face plastic surgery results depends on various factors, including the specific procedure, individual healing, and lifestyle choices. Results from face-lifts and other facial surgeries can last for several years, but natural aging continues over time.
Can I smile after a face-lift?
Yes, you can smile after a face-lift. A skilled surgeon ensures the facial muscles remain functional, allowing for natural expressions post-surgery.
What are the risks of facial plastic surgery?
Facial plastic surgery, like any surgical procedure, carries potential risks such as infection, bleeding, scarring, nerve damage, and unsatisfactory results. Consulting with a qualified surgeon and following pre and post-operative instructions can minimize risks.