Although it is said that beauty is in the eye of the beholder, for many people, it significantly impacts their sense of confidence and self-worth. Our features, especially our noses, greatly influence how we and others see us. It is a universal aim to have a harmonious face profile and be completely comfortable in our skin.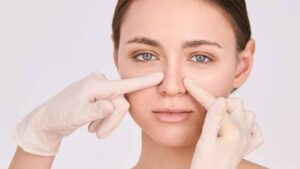 The decision to have a rhinoplasty procedure (nose job surgery) can be exciting and nerve-wracking in a world where fashion trends come and go and our ideas of beauty change over time. Imagine staring in the mirror and scrutinizing the effect of rhinoplasty after 20 Years. You find yourself at a fork in the road, reflecting on the transforming potential of this surgical trip while thinking about one eerie thought: How will my nose appear in 20 years?
Are you considering a nose job but concerned about its long-term impact? Please visit eminent plastic surgeon in Mumbai Dr. Vinod Vij for expert consultation and discuss expected outcomes.
In this blog, we shall learn the impact of a nose job after 20 years, specifically how the results of this treatment hold up over 2 decades.
Benefits of Rhinoplasty after 20 years – What to expect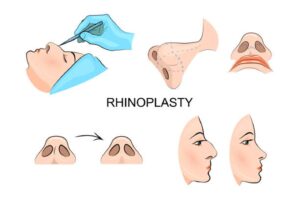 You may wonder how the results of your transformative journey appear 20 years after rhinoplasty. Let us look at what to anticipate 20 years following rhinoplasty.
Durability: 
One of the noteworthy features of rhinoplasty is its capacity to deliver long-lasting outcomes. Your nose's improved contours will likely last even 20 years after the procedure since the functional or aesthetic adjustments are typically long-lasting.
Natural Ageing Process: 
While rhinoplasty can improve your appearance and address particular issues, your nose will continue to age naturally. Nevertheless, the fundamental enhancements during your rhinoplasty treatment should serve as a base for a more harmonious and visually attractive nose.
Psychological and Emotional Perks:
Rhinoplasty has effects that go beyond the obvious physical ones. The increased self-awareness and confidence you attained from your nose-shaping procedure positively influence your life decades after. A greater sense of overall well-being and relationship improvement can result from feeling more at ease in your skin, presenting you with additional options.
Maintenance and Care:
While the results of rhinoplasty are intended to last for many years, adequate supervision and care are essential to maintaining the appearance of your nose. The lifespan of your rhinoplasty results can be increased by adhering to your surgeon's post-operative recommendations, using proper skincare practices, and shielding your nose from injury or excessive sun exposure.
Potential for Revision: 
Some people might consider getting a revision rhinoplasty after 20 years to address fresh concerns or enhance earlier outcomes. You must talk with a qualified expert to identify the best course of action if you want additional improvement.
Remember that every person's experience with rhinoplasty is different, and outcomes may differ.
If you have concerns about the impact of rhinoplasty after 20 years, please speak with Dr. Vinod Vij, often called the best rhinoplasty doctor in Mumbai. He can address your worries or questions concerning the long-term repercussions of rhinoplasty and offer personalized insights based on your unique instance.
Are there any long-term side effects after 20 years
Most individuals with rhinoplasty have no severe complications or long-term adverse effects.
That said, here are some things to consider:
Anesthesia-related complications
A sensation of numbness or pain at the surgical site
Bruising, swelling and changes in skin color
Adverse effects on breathing
Risk of infections
Suboptimal healing or faintly visible scarring
Formation of a hole in the nasal septum
Possibility of requiring revisional surgery
Unrealized cosmetic expectations
Most of these complications can be minimized or avoided if you choose a highly accomplished aesthetic surgeon for your nose straightening surgery. Also, following the post-care guidelines provided by your surgeon is essential.
Post-operative guidelines
Some general guidelines after nose surgery include the following:
Attend all scheduled appointments with your surgeon and openly communicate concerns or questions.
Follow your surgeon's instructions tailored to your unique situation
Follow your surgeon's instructions regarding medication intake and promptly report any adverse reactions or concerns.
Manage pain and swelling by taking pain medications as prescribed or recommended by your surgeon.
Maintain a head-up position while sleeping, use pillows to elevate your head, and avoid bending over or lowering your head below heart level.
Refrain from strenuous activities, heavy lifting, or exercises that could strain your nose or increase blood pressure for several weeks.
Support your recovery by adhering to a healthy and balanced diet.
Carefully clean the incisions or internal splints according to your surgeon's instructions.
Avoid blowing your nose; gently sniff if necessary or utilize saline nasal sprays or drops to keep your nose moisturized.
Take precautions to protect your nose from accidental bumps or impact by wearing suitable headgear during activities with a risk of injury.
 "You can ensure a smooth and quick recovery from rhinoplasty by adhering to these recommendations and asking your surgeon for advice when necessary, advises Dr. Vinod Vij.
Among the preferred doctors for people seeking aesthetic interventions, Dr. Vij is frequently called the best rhinoplasty surgeon in Mumbai. So if you are trying to find the best plastic surgeon for rhinoplasty, you have come to the right place.
FAQs
Q.1 How do I know if I have a big nose?
A: The definition of a "big" nose varies from person to person according to personal tastes and cultural standards. Different cultures and societies have different ideas about what constitutes beauty and how big a nose should be. It is best to speak with a trained plastic surgeon who can evaluate your particular facial features and offer tailored advice if you are unhappy about the size of your nose.
Q.2 How many years can a nose job last?
A: The durability of a rhinoplasty, sometimes known as a nose job, can vary based on several variables, such as the surgical methods utilized, the patient's healing process, and lifestyle decisions. While a good rhinoplasty can last a lifetime, the nose's appearance might vary as we age and the face naturally changes.
Q.3 Can rhinoplasty be repeated?
A: A revisional rhinoplasty procedure may be necessary for some circumstances if the outcomes of the initial surgery are disappointing or if additional issues develop. However, due to the modifications made during prior operations, repeat rhinoplasty procedures might be more complicated and require careful thought.
Q.4 Will my nose continue to grow after rhinoplasty?
A: No, your nose won't continue to grow significantly. The existing nasal components are reshaped and repositioned due to the surgery. The nose's appearance may gradually change due to natural ageing processes. However, this is unrelated to the continuing growth that occurs during adolescence.