Are you dealing with the physical and emotional discomfort caused by gynecomastia, the condition that causes "man boobs"? Don't worry; liposuction for man boobs can help you regain confidence and achieve a more masculine chest. Please consult Dr Vinod Vij, one of the top plastic surgeon in Mumbai, renowned for his expertise in this transformative procedure.
Many men struggle with the embarrassment and self-consciousness that come with excess chest fat, known as "man boobs" or gynecomastia. The desire for a more masculine chest is a common concern, and finding an effective solution is essential.
The solution may seem out of reach, but it is not. Imagine waking up each day, looking in the mirror, and seeing a chest that makes you feel confident, strong, and self-assured. This transformation is possible and begins by making informed choices.
When seeking safe and effective liposuction surgery in Mumbai, consulting an expert like Dr. Vinod Vij is crucial. He is a leading plastic surgeon in Navi Mumbai and Mumbai. Dr. Vij possesses the knowledge, experience, and dedication to help you overcome this hurdle and regain your confidence through gynecomastia surgery in Mumbai. 
Can Gynecomastia be Cured with Liposuction?
Yes, male breast gynecomastia can often be effectively treated with liposuction. Man boob disease or gynecomastia is characterized by the presence of excess fat and sometimes glandular tissue in the male chest area. This creates the appearance of large man boobs. Liposuction is a minimally invasive procedure. It can remove this excess fat, resulting in a flatter and more masculine chest contour for a male with boobs. 
However, the suitability of liposuction as a treatment for gynecomastia or large man boobs depends on individual factors. These factors include the extent of the condition and the presence of glandular tissue, which may require additional surgical techniques.
Can Men Get Liposuction on Their Chests?
Absolutely, Men can undergo liposuction on their chest as part of a gynecomastia treatment plan or for cosmetic reasons. Liposuction is a versatile procedure. It can effectively target and remove excess fat from various body areas, including the chest.
This procedure is specifically designed to address the common concern of chest fat in men. It helps men achieve a more defined and masculine chest appearance. Consulting with an experienced plastic surgeon like Dr Vinod Vij is essential to determine the most appropriate approach for your specific needs and goals.
How Painful is Gynecomastia Liposuction?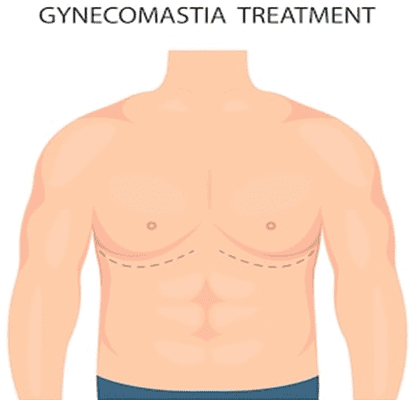 Gynecomastia liposuction is generally well-tolerated by most patients. Before the procedure, surgeons usually administer local anesthesia to numb the treatment area. It helps minimize pain during the procedure. Many patients report feeling pressure, and some as mild discomfort, usually not described as painful.
After man boob surgery, during the initial recovery period, it is common to experience some soreness, bruising, and swelling. This discomfort is usually manageable with prescribed pain medications. Depending on individual factors, it typically subsides within a few days to weeks. Your plastic surgeon will provide detailed post-operative care instructions to help minimize discomfort and ensure a smooth recovery.
Is Liposuction for Man Boobs Better than Surgery?
The choice between liposuction and traditional surgical techniques for man boob disease or gynecomastia treatment depends on various factors, including the severity of the condition and individual goals. Both approaches have their advantages and disadvantages.
Many patients often prefer liposuction because it is less invasive, involves smaller incisions, and results in less scarring. The recovery time is also usually shorter with liposuction. However, man boob lipo may be most effective when dealing with excess fat and may not address glandular tissue if present.
Traditional surgical methods involve more extensive incisions. It may be necessary when a significant amount of glandular tissue needs to be removed. Surgical techniques provide more direct control for tissue removal and reshaping the chest. However, they may result in more noticeable scarring and require a longer recovery.
The choice between liposuction and surgery should be made in consultation with a board-certified plastic surgeon like Dr Vinod Vij. They can assess your condition and help you decide which approach best suits your desired results. It is essential to weigh the benefits and drawbacks of each method to make an informed decision.
Benefits of Liposuction for Man Boobs
Liposuction for man boobs offers several significant advantages:
1. Minimally Invasive: Liposuction involves small incisions and minimal body trauma. It results in less scarring and faster recovery than traditional male boob reduction surgery.
2. Improved Chest Contour: Man boob lipo effectively removes excess chest fat, creating a flatter, more masculine chest shape.
3. Shorter Recovery Time: Gynecomastia liposuction typically requires a shorter recovery than traditional male chest reduction surgical methods. Patients can often resume their daily activities within a few days to weeks.
4. Reduced Scarring: Liposuction incisions are small and discreet. It results in minimal and less noticeable scarring than larger surgical incisions.
5. Customized Treatment: Surgeons can tailor liposuction to patients' needs. Surgeons can precisely target and remove excess fat, creating a sculpted and natural-looking chest.
The Procedure of Liposuction for Man Boobs
Liposuction for gynecomastia is a specialized procedure designed to reduce excess fat in the male chest area and create a more contoured and masculine appearance. Here's how the process typically works:
1. Consultation:
The process begins with a thorough consultation with a board-certified plastic surgeon. During this consultation, the surgeon will assess the extent of gynecomastia, discuss your goals, and determine whether liposuction is the most appropriate treatment or whether other techniques may be required.
2. Anesthesia:
Before the procedure, the surgeon may administer local or sometimes general anesthesia to ensure your comfort during the procedure.
3. Incisions:
The surgeon strategically creates small, inconspicuous incisions around the chest area. These incisions are typically placed along the edge of the areola or in natural creases to minimize visible scarring.
4. Tumescent Solution:
The surgeon infuses the tumescent solution into the chest area. It consists of saline, local anesthetics, and epinephrine. This solution helps numb the area, minimize bleeding, and facilitate the man boob fat removal process.
5. Liposuction:
The surgeon inserts a thin, hollow tube called a cannula through the incisions. Then, the surgeon applies a controlled, back-and-forth motion to loosen and remove excess fat cells from the chest area. The fat suctions out through the cannula.
6. Contouring:
The surgeon carefully sculpts the chest area to create a more masculine and natural appearance. This involves ensuring that the chest is symmetrical and that excess fat is evenly removed.
7. Closure:
After the man boob fat removal and contouring are complete, the surgeon closes the incisions with sutures. Sometimes, the surgeon may place small drains to help with fluid drainage during the initial recovery.
8. Recovery:
Following the procedure, patients are typically fitted with compression garments to support the healing process and maintain the new chest contour. Patients can usually return home the same day.
What is the Best Liposuction for Gynecomastia?
The choice of the best liposuction technique for gynecomastia depends on individual factors, including the patient's anatomy, the extent of gynecomastia, and the surgeon's expertise. Common liposuction techniques used for male boob reduction include:
1. Traditional Liposuction: This involves using a cannula to suction out excess fat from the chest manually.
2. Power-Assisted Liposuction (PAL): PAL employs a mechanized cannula to facilitate fat removal, making the procedure more efficient.
3. Laser-Assisted Liposuction: The laser lipo man boobs techniques like Smart Lipo or VASER Lipo can assist in fat removal and provide additional skin tightening benefits.
The choice between these techniques should be made in consultation with a qualified plastic surgeon. They can assess your case and recommend the best approach to achieve optimal results. Dr. Vinod Vij, a competent plastic surgeon in Mumbai, can provide expert guidance in choosing the most suitable liposuction method for your male breast gynecomastia treatment.
What are the Complications or Side Effects of Gynecomastia Liposuction?
Gynecomastia liposuction is generally a safe and well-tolerated procedure. However, like any surgical procedure, it may carry some potential risks, including:
1. Bruising: Bruising is common around the treated area and typically fades within a few weeks.
2. Swelling: Expect post-procedure swelling. It may persist for several weeks but gradually diminishes as your body heals.
3. Numbness or Sensation Changes: Temporary numbness or changes in sensation around the chest area may happen. The sensation usually returns to normal over time.
4. Discomfort: Some discomfort, soreness, or mild pain is normal in the days following surgery. Your surgeon will provide pain medications to manage this discomfort.
5. Scarring: While incisions are small and inconspicuous, some scarring may develop. Scars generally fade with time, becoming less noticeable.
6. Skin Irregularities: In rare instances, patients may experience skin surface irregularities. It can often be addressed with additional treatment or revision surgery if needed.
7. Infection: Infection at incision sites is rare but possible. Doctors usually prescribe antibiotics to minimize this risk.
8. Asymmetry: Achieving perfect symmetry can be challenging. Some degree of asymmetry in the chest contour may occur.
These complications are relatively rare. The side effects are temporary and part of the normal healing process. Most patients experience a smooth recovery process.
To minimize risks and ensure the best possible outcome, choosing a qualified, board-certified plastic surgeon like Dr Vinod Vij, who specializes in gynecomastia surgery in Mumbai, is crucial. They can provide expert care throughout the procedure and recovery.
What is the Recovery Time for Gynecomastia Liposuction?
Recovery time after man boob lipo can vary depending on individual factors and the extent of the procedure. However, here is a general timeline:
Immediate Post-Operative Period: Patients typically go home the same day as the surgery. You may experience discomfort, swelling, and bruising during the first few days.
First Week: During the initial week, it is essential to rest and follow your surgeon's post-operative instructions carefully. You may need to wear compression garments to support the healing process.
2-4 Weeks: Most patients can resume light activities within a week or two. Strenuous exercise and heavy lifting should be avoided for about four to six weeks or as your surgeon directs.
Full Recovery: Complete recovery and the final results can take several months as swelling gradually subsides and the body adjusts to its new contour. Scars will also continue to fade over time.
Attending all follow-up appointments with your surgeon is crucial to monitor your progress and ensure your recovery is proceeding as expected. Based on your specific case, your surgeon will provide personalized guidance on when you can return to normal activities and exercise.
What Not to Do After Liposuction?
Recovering from liposuction is a crucial phase of the process. You should avoid several things to ensure a smooth and successful recovery. Here are some essential "don'ts" after liposuction:
Avoid Strenuous Activities: Don't engage in strenuous exercises or heavy lifting for the recommended recovery period, typically four to six weeks.
Avoid Alcohol and Smoking: Refrain from alcohol and smoking, as they can hinder healing.
Post-Op Instructions: Follow your surgeon's post-operative instructions diligently, including wearing compression garments and taking prescribed medications.
Follow-Up Appointments: Attend all scheduled follow-up appointments with your surgeon to monitor your progress and ensure a smooth recovery.
Choosing the Right Surgeon
Selecting the right plastic surgeon is critical in ensuring a safe and successful liposuction procedure. Here are some factors to consider when choosing a surgeon:
Credentials: Ensure the surgeon is board-certified and has the necessary credentials and experience in the procedure you are considering.
Specialization: Look for a surgeon specialising in the type of surgery you need, such as gynecomastia liposuction.
Patient Reviews: Read patient reviews and testimonials to gauge the surgeon's reputation and patient satisfaction.
Consultation: Schedule a consultation to discuss your goals and assess the surgeon's expertise and compatibility with your needs.
Ask Questions: Don't hesitate to ask questions about the procedure, potential risks, and expected outcomes. A skilled surgeon should provide clear and detailed answers.
If you are considering liposuction for man boobs, consult a qualified plastic surgeon to discuss your options and achieve a more confident and contoured chest.
Conclusion
The journey to a more confident and masculine chest begins with understanding the power of gynecomastia liposuction. It is not merely a cosmetic procedure but a life-changing transformation that can boost your self-esteem, improve your body image, and help you feel comfortable and confident in your skin. With the expertise of Dr Vinod Vij, a highly skilled plastic surgeon in Navi Mumbai and Mumbai, the path to a more fulfilling and secure life is within your reach. 
Don't let gynecomastia hold you back any longer – take the first step toward a new, confident you. Click here to begin your journey today.
FAQs:
Q.1 Is liposuction good for chest fat?
A: Yes, liposuction is an effective method for reducing excess fat in the chest area.
Q.2 Does liposuction leave scars?
A: Liposuction involves small incisions, which result in minimal scarring compared to conventional surgical methods.
Q.3 Is male breast liposuction safe?
A: When performed by a skilled surgeon, male breast liposuction is considered safe.
Q.4 Does gynecomastia come back after liposuction?
A: In most cases, the results of gynecomastia liposuction are long-lasting. However, maintaining a healthy lifestyle is essential to prevent a recurrence.
Q.5 Does liposuction last a lifetime?
A: Liposuction can provide long-lasting results. However, maintaining a healthy lifestyle is essential to prevent fat reaccumulation.
Q.6 Is male liposuction painful?
A: Liposuction for men is generally well-tolerated, with minimal discomfort during and after the procedure. Discomfort is manageable with pain medications and typically subsides within a few days.